Information to Satisfy Individual Interests
Information to Satisfy Individual Interests
Send personalized information to users with Messaging API, LINE Login, LINE Beacon, and more.
One-to-One Communication Through LINE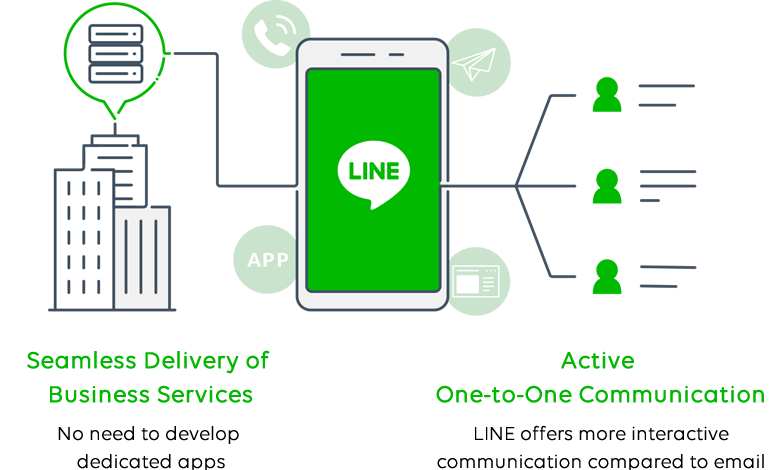 Ways to Use LINE Official Accounts
LINE Login

Link your company's services with LINE Official Account so that user actions can be completed within LINE.
LINE Login helps you enhance user convenience, recruit new members, add friends to your account, and more.

Messaging API

Foster personalized messaging and two-way communication by linking your company's system with Messaging API.
You can link with it by modifying your system in-house, or skip in-house development by accessing useful tools provided by our partners.

LINE Beacon

Deliver coupons, messages, and other info from your official account to users via physical Bluetooth transmitters.
LINE Beacon lets you reach users with targeted and timely content for their daily lives.
Usage Examples
Communication via
Linked Databases

Send messages via LINE using info in your company's customer database, such as product recommendations based on a customer's purchase history or reminders for items left in their shopping cart.

Targeted Messaging
Based on Survey Info

Use demographic info from surveys to deliver content and enable effective communication with target groups. Even companies without robust customer databases can take advantage of survey demographic info.

Digital Membership Cards

Manage customers easily by having them friend your LINE official account. Customers no longer need special membership or point cards, and avoid having to register any sensitive personal information.

IoT

Link various IoT devices with LINE through services such as LINE Beacon to send info to in-store customers, notify them of nearby points of interest, or even handle payments from vending machines and similar items.

Customer Service

Augment your customer service efforts with LINE's wide variety of customer service solutions. With LINE, you can use the latest AI technology to provide 24/7 automated responses to FAQs, and more.
To learn more about LINE Account Connect,
you can download media kits
from the link below (available in Japanese only).