Effective Advertising to Promote Communication
Effective Advertising to Promote Communication
Encourage users to share with their friends through integrated branding in their daily lives.
Communicate with Stickers
Stickers
Speak Up Without Saying a Word
Stickers provide a varied range of emotions and
situations to express feelings that are hard to convey
with text. As a common method of communication
between users, stickers help increase awareness of a
company's LINE official account.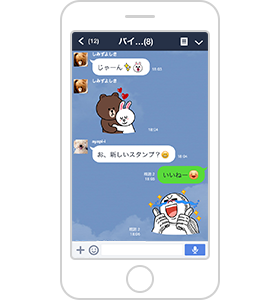 Adding Friends

Use stickers as an incentive to
friend an official account.

Brand Awareness

Boost awareness and likability by sharing your brand's values.

Promotions

Offer stickers with a purchase
or attending an event.
To learn more about LINE Account Connect,
you can download media kits
from the link below (available in Japanese only).